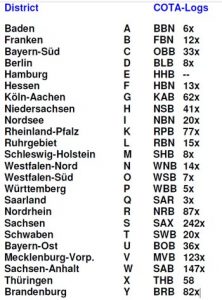 Altogether 1119 log-files were uploaded for 397 different callsigns during the year 2016. The COTA-database includes actually nearly 600000 contacts. Thanks to Karl DL1JKK, who made the uploads 2 times, one for COTA, one for WCA. Our COTA-award meanwhile was issued 1341 times, the highest issued class currently is the COTA-675.
With these nearly 600000 contacts of course we could also support the international WCA-award-program.
Thanks for the support and a happy new year 2017 from COTA-Team-Germany !