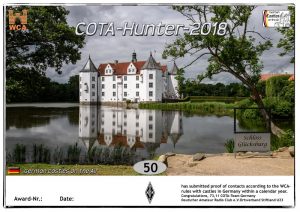 In 2017 COTA-Team-Germany invented together with DARC-OV-Stiftland the Annual COTA 2017 award program. The goal was to bring WCA-references in germany which were probably only active once, back on the bands. Up till today we could issue the COTA-annual-hunter 2017 altogether 175 times and the COTA-annual-activator 2017 about 40 times. There were altogether 300 german references which could be reactivated during past year again. Beside this another 500 were active for the first time which resulted in 1815 activation-logs in total, about 20 percent more than the year before.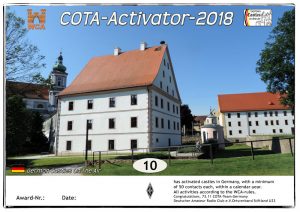 Round 140000 QSO-points could be added into the COTA-logsearch database which has meanwhile around 750000 contacts included. (We load all contacts also in the international WCA-database) Also the standard COTA-award-program is very popular. We reached the 2200 awards from the normal COTA-hunter-award. So thanks to all, who made this success possible, Hunter, Activator, Award-Manager and thanks to those who offered the nice pictures for the awards.
So 01.01. will be the new start for the COTA-Annual-Hunter 2018 and COTA-Annual-Activator 2018-award series.
We wish you a happy and successful new year and good luck with COTA-hunting.