The COTA-annual-activator-award is available in steps by 10 different activated COTA-objects with a minimum of 50 QSO from each.
Only contacts which are included in the COTA-database count for this award-program.
This new award is for contacts within one calendar year and is first time available in the year 2017.
Check your score at: http://logsearch.cotagroup.org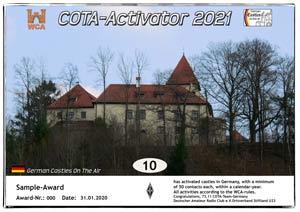 If the needed number of contacts was reached, just click at the application-link und you will get your award (or awards if more reached) via E-Mail.
If you was working from german castles portable in the past since 1995 and your contacts are not included in the database, please just send us your logs in ADIF-file-format that your contacts
can be counted also for the COTA-award-series.
Send your log to COTA-log-address