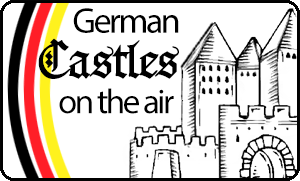 Membership in COTA-Team-Germany is for free.
You only need to be interested in promoting
the COTA-ideas.
We generally recommend to keep your activities also
according to the WCA-rules and send us your ADI-file from the activities to the log-address, we will load them into WCA-database as well into COTA-database.
If you wish to be member of COTA-group just send an e-mail to this mail-address and you will be added to the listing.

| NR | CALL | DOK | DATE | NAME | |
| --- | --- | --- | --- | --- | --- |
| 1 | DL1ATR | L16 | 01.03.2007 | Sten | |
| 2 | DL2HRT | W24 | 01.03.2007 | Hartmut | |
| 3 | DK8RE | Y43 | 01.03.2007 | Hans | |
| 4 | DL5AWI | X11 | 01.03.2007 | Gerd | |
| 5 | DL8GG | X46 | 01.03.2007 | Jürgen | |
| 6 | DL3APO | S46 | 01.10.2007 | Peter | |
| 7 | DL1JGO | S70 | 01.02.2008 | Wolf | |
| 8 | DO6BY | R32 | 01.02.2008 | Jürgen | |
| 9 | DG8KBH  | G56 | 28.08.2008 | Ralf | |
| 10 | DL4FDM | F02 | 21.12.2008 | Fritz | |
| 11 | DK9VA | Q11 | 15.02.2009 | Joachim | |
| 12 | DL8HK | Q11 | 15.02.2009 | Karen | |
| 13 | DH1PS | N20 | 05.04.2010 | Heinz-Peter | |
| 14 | DL4NTC | W33 | 10.05.2010 | Detlef | |
| 20 | DE4XYL | L16 | 08.09.2007 | Doris | |
| 21 | DO1JO | X14 | 08.09.2007 | Jona | |
| 22 | DM2FT | F70 | 08.09.2007 | Joachim | |
| 23 | DL5AWE | X11 | 08.09.2007 | Klaus | |
| 24 | DD9NT | F06 | 08.09.2007 | Uli | |
| 25 | DO1KGA | L18 | 08.09.2007 | Gerwin | |
| 26 | OK5NN | | 01.02.2008 |  Jirka   | |
| 27 | HA8MT | | 01.02.2008 |  Fero   | |
| 28 | DL6ZAG   | F52 | 01.02.2008 |  Günter  | |
| 29 | SP6OPZ  | | 01.02.2008 |  Henryk  | |
| 30 | DG6PW | K06 | 05.04.2010 |  Udo | |
| 31 | DL2GLA | W33 | 10.05.2010 |  Gunnar | |
| 32 | DK2AJ | W33 | 10.05.2010 |  Axel | |
| 33 | DM2RS | F76 | 04.04.2010 | Reinhard | |
| 34 | DJ4EY | O03 | 16.05.2010 | Jürgen | |
| 35 | DK7OM/DE6SWR | V20 | 10.02.2012 | Rudi | |
| 36 | DG6SYL/DE6SYL | V20 | 10.02.2012 | Marianne | |
| 37 | DF6EX | U23 | 10.02.2012 | Manfred | |
| 38 | DF0ESA | X11 | 11.02.2012 | Clubstation OV Eisenach | |
| 39 | DA0CW | U23 | 11.02.2012 | Clubstation OV Stiftland | |
| 40 | DP7COTA | COTA | 11.02.2012 | Clubstation OV Stiftland | |
| 41 | DF3OW | H35 | 15.02.2012 | Fritz | |
| 42 | DF0WSB | R33 | 21.02.2012 | Clubstation OV Schiefbahn | |
| 43 | DM2DLG | X38 | 21.02.2012 | Michael | |
| 44 | DL4RU | U23 | 21.02.2012 | Karl | |
| 45 | DL4BBH | I25 | 05.03.2012 | Friedrich | |
| 46 | DL6AP | V01 | 02.04.2012 | Andy | |
| 47 | DL2HUC | W33 | 18.03.2012 | Erich | |
| 48 | DM2BPG | W33 | 20.03.2012 | Helmut | |
| 49 | DL1EKO | R11 | 06.04.2012 | Toni | |
| 50 | DL8RBS | B03 | 07.04.2012 | Gerald | |
| 51 | DF2DD | O04 | 30.04.2012 | Carsten | |
| 52 | DH0KAA | G37 | 03.05.2012 | Ingo | |
| 53 | DE1VTM | G11 | 03.05.2012 | Stephan | |
| 54 | DK2TUX | B12 | 05.05.2012 | Mike | |
| 55 | DE2PIA | X21 | 07.05.2012 | Pia | |
| 56 | DE1APJ | X21 | 07.05.2012 | Jana | |
| 57 | DL1APQ | X21 | 07.05.2012 | Andreas | |
| 58 | DO1HEB | H62 | 08.05.2012 | Thomas | |
| 59 | DL9NDP | B32 | 08.05.2012 | Ralf | |
| 60 | DL7SMK | X23 | 08.05.2012 | Sandro | |
| 61 | DA0COTA | COTA | 17.05.2012 | Carsten | |
| 62 | RN1CW | | 13.06.2012 | Andrew | |
| 63 | DR11COTA | COTA | 01.09.2012 | Gerhard | |
| 64 | DL7UMW | Y34 | 17.10.2012 | Martin | |
| 65 | DL2NPC | V22 | 25.11.2012 | Harry | |
| 66 | DC7VS | | 06.03.2013 | Christian | |
| 67 | DL1JKK | S56 | 21.03.2013 | Karl | |
| 68 | DG1EA | R33 | SILENT KEY | Ben | |
| 69 | DG4SB | R33 | 28.04.2013 | Sibel | |
| 70 | DH9SB | P40 | 01.05.2013 | Marek | |
| 71 | DL2UL | R10 | 12.05.2013 | Uwe | |
| 72 | DE2LBB | | 01.06.2013 | Heiner | |
| 73 | DL1JFM | S56 | 13.08.2013 | Karl | |
| 74 | DF2OU | | SILENT KEY | Rolf | |
| 75 | DO5DTC | O26 | 25.08.2013 | Thomas | |
| 76 | DK4WN | Z22 | 07.09.2013 | Wolfgang | |
| 77 | DJ2ZK | K06 | 11.09.2013 | Klaus | |
| 78 | DB2TY | | 19.09.2013 | Günther | |
| 79 | DL0WCA | | 04.10.2013 | COTA Group Münsterland | |
| 80 | DF0WCA | COTA | 30.10.2013 | | |
| 81 | DE3EAR | U23 | 03.11.2013 | Hans-Jürgen | |
| 82 | DL5DXS | | 04.11.2013 | Steffen | |
| 83 | DL2JX | F51 | 01.12.2013 | Erich | |
| 84 | DL6PW | K06 | 16.12.2013 | Simone Jasmin | |
| 85 | DM2AM | K06 | 16.12.2013 | Ann-Kathrin | |
| 86 | DK8NW | | 17.01.2014 | Christian | |
| 87 | DL1ASF | X26 | 21.01.2014 | Klaus | |
| 88 | OE7LVI | | 23.01.2014 | Viktor | |
| 89 | DA0WCA | WCA | 14.03.2014 | COTA-Team-Stiftland | |
| 90 | DL2RUF | Y07 | 26.03.2014 | Jürgen | |
| 91 | DL9WO | F11 | 02.06.2014 | Klaus | |
| 92 | DJ8QP | C16 | 28.07.2014 | Volker "Gus" | |
| 93 | DG2RON | Y03 | 06.08.2014 | Ron | |
| 94 | DG5MLA | T08 | 26.10.2014 | Gerald | |
| 95 | DM5WH | F17 | 30.11.2014 | Wilfried | |
| 96 | DO2KSB | F51 | 18.01.2015 | Klaus | |
| 97 | DF5DY | O30 | 19.01.2015 | Albert | |
| 98 | DG6YY | N44 | 19.02.2015 | Diego | |
| 99 | DL4VM | Q01 | 24.02.2015 | Thomas | |
| 100 | DL50MER | 25W21 | 29.03.2015 | Radioclub TH Merseburg | |
| 101 | DK6UC | W21 | 29.03.2015 | Hardy | |
| 102 | DL7TO | U13 | 08.04.2015 | Rudi | |
| 103 | DM3XB | V11 | 08.04.2015 | Jürgen | |
| 104 | DB5CL | B16 | 15.04.2015 | Christian | |
| 105 | DK5ON | N47 | 19.04.2015 | Andreas | |
| 106 | DK0ON | N47 | 19.04.2015 | Clubstation | |
| 107 | DK5T | N47 | 19.04.2015 | Contestgruppe Senne | |
| 108 | DL0AFS | N47 | 19.04.2015 | Amateurfunk Freunde Senne | |
| 109 | DB0CGS | N47 | 19.04.2015 | Contestgruppe Senne | |
| 110 | DB6AV | U21 | 21.04.2015 | Peter | |
| 111 | OK8WFF | | 21.04.2015 | Manfred | |
| 112 | DK5AX | H20 | 23.04.2015 | Markus | |
| 113 | DR5F | H20 | 23.04.2015 | Clubstation OV Peine | |
| 114 | DK1IO | H61 | 01.05.2015 | Reinhard | |
| 115 | DH3MG | H34 | 10.05.2015 | Martin | |
| 116 | DL8MM | P47 | 05.06.2015 | Michael | |
| 117 | DC8CH | L11 | 08.06.2015 | Carsten | |
| 118 | DG8AE | H33 | 17.06.2015 | Frank | |
| 119 | DO7SMM | U13 | 22.06.2015 | Stefan | |
| 120 | DO9KMM | U13 | 22.06.2015 | Emil | |
| 121 | DL1BZA | Y22 | 24.06.2015 | Joe | |
| 122 | DK7JQ | R25 | 24.06.2015 | Dietmar | |
| 123 | DL1RI | F55 | 24.06.2015 | Werner | |
| 124 | DL3AS | D20 | 21.07.2015 | Reinhard | |
| 125 | DL7NL | B09 | 02.08.2015 | Stefan | |
| 126 | DF3IF | K12 | 18.08.2015 | Peter | |
| 127 | DL1SWB | V28 | 22.08.2015 | Dieter | |
| 128 | DM1RTZ | G56 | 27.09.2015 | Thomas | |
| 129 | DL7UST | D26 | 26.10.2015 | Andy | |
| 130 | DL8MEW | C14 | 25.11.2015 | Klaus | |
| 131 | DH1FBL | | 30.12.2015 | Wolfgang | |
| 132 | DL8EB | K12 | 14.01.2016 | Jörg | |
| 133 | DL2FHM | F76 | 04.02.2016 | Horst | |
| 134 | DL1AXB | | 14.02.2016 | Peter | |
| 135 | DL5LBQ | M13 | 09.03.2016 | Dirk | |
| 136 | DJ0IP | B35 | 22.03.2016 | Rick | |
| 137 | DL3ZW | K12 | 12.04.2016 | David | |
| 138 | DO3GEO | X30 | 17.04.2016 | Detlef | |
| 139 | DL5NCN | B13 | 30.04.2016 | Friedrich | |
| 140 | DL8BJ | C27 | 19.05.2016 | Jürgen "George" | |
| 141 | DH4JF | G19 | 26.05.2016 | Jens-Rainer | |
| 142 | DK3ME | B19/Z51 | 26.05.2016 | Rainer | |
| 143 | DK4AP | G19 | 12.06.2016 | Andreas | |
| 144 | DH0GME | A18 | 09.08.2016 | Elmar | |
| 145 | DO5SV | | 04.11.2016 | Roul | |
| 146 | DL6MWG | W37 | 08.11.2016 | Harald | |
| 147 | DD0VU | S19 | 08.11.2016 | Jens | |
| 148 | DG5KCB | G50 | 16.11.2016 | Christian | |
| 149 | DC3SHL | B13 | 25.11.2016 | Helge | |
| 150 | DO1DAN | E05 | 02.12.2016 | Bernd | |
| 151 | DJ2OS | U23 | 16.02.2017 | Peter | |
| 152 | DK9VQ | Q17 | 25.02.2017 | Helmut | |
| 153 | DK5CH | L12 | 23.04.2017 | Chris | |
| 154 | DH9LAK | M19 | 14.06.2017 | Kalle | |
| 155 | DF1NY | B37 | 15.06.2017 | Bernd | |
| 156 | DL6FH | Z22 | 22.07.2017 | Frank | |
| 157 | DJ0JB | H35 | 01.08.2017 | Jörg | |
| 158 | DL8ECA | R13 | 30.08.2017 | Florian | |
| 159 | DL9SEP | P53 | 20.09.2017 | Franz | |
| 160 | DL5JF | K35 | 09.10.2017 | Jutta | |
| 161 | DO8TKL | H21 | 13.10.2017 | Torsten | |
| 162 | DD2TC | A18 | 08.01.2018 | Clemens | |
| 163 | DL5HAI | H20 | 24.04.2018 | Ralf | |
| 164 | DO1RGI | X31 | 30.04.2018 | Reinhard | |
| 165 | DK1HI | Z60/B02 | 17.06.2018 | Bernhard | |
| 166 | DO3GE | N20 | 09.07.2018 | Thomas | |
| 167 | DC2TS | P35 | 12.07.2018 | Martin | |
| 168 | DN2SM | P35 | 12.07.2018 | Martin | |
| 169 | DJ7PRM | F74 | 31.07.2018 | Harald | |
| 170 | DR10WCA | WCA10 | 11.01.2019 | Clubstation OV-Stiftland | |
| 171 | DL8BU | A18 | 06.03.2019 | Christian | |
| 172 | DC5GA | P45 | 06.03.2019 | Alex | |
| 173 | DL8ALF | V15 | 21.03.2019 | Alf | |
| 174 | DL2KJ | A18 | 13.04.2019 | Jürgen | |
| 175 | DL0FIS | A18 | 13.04.2019 | Clubstation A18 | |
| 176 | DF1GT | A18 | 05.05.2019 | Jürgen | |
| 177 | DF1AKR | A18 | 05.05.2019 | Andreas | |
| 178 | DL4FNM | X06 | 06.05.2019 | Stefan | |
| 179 | DL2ND | S32 | 27.12.2019 | Uwe | |
| 180 | DL3ABD | H07 | 27.12.2019 | Andreas | |
| 181 | DL5ACW | Y06 | 27.01.2020 | Achim | |
| 182 | DB5ABS | B43 | 11.03.2020 | Andreas | |
| 183 | DM5CB | H46 | 29.04.2020 | Chris | |
| 184 | DD3JN | R14 | 03.05.2020 | Gerd | |
| 185 | DL1RTW | Y07 | 30.05.2020 | Detlev | |
| 186 | DO1HDF | P36 | 20.08.2020 | Hans | |