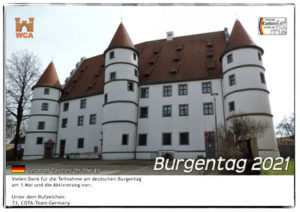 Castle-Day 2021 was a big success.
We had less logs received compared with 2020 however number of contacts was higher. So thanks to all participants for giving us a call and hope to meet you again from various castles at german castle day 2022. All logs were uploaded into the COTA- and also WCA-database. Thanks to Karl DL1JKK for uploading and general organisation, thanks to Uwe for compiling the announced stations.
As next big castle-event the World Castle Weekend will follow from 11. till 20. june. Of course we will try to get as many german activators in this event also.
73,11,good health COTA-Team-Germany
received logs:

| Call | Ref. |
| --- | --- |
| DG1RPU | DL-00071 |
| DK0DFF | DL-00194 |
| DM2DLG | DL-00224 |
| DL2NPC | DL-00249 |
| DO7BTR | DL-00323 |
| DL5HAI | DL-00455 |
| DL4EAX | DL-00649 |
| DM4EAX | DL-00649 |
| DF3IF | DL-00728 |
| DF3IF | DL-00729 |
| DL1GKC | DL-00874 |
| DD4MG | DL-00916 |
| DF9PE | DL-00962 |
| DH2PA | DL-00999 |
| DD6FM | DL-01006 |
| DD6FM | DL-01006 |
| DJ7PRM | DL-01067 |
| DM5ML | DL-01068 |
| DF2VZ | DL-01083 |
| DL2DXA | DL-01121 |
| DL1DXF | DL-01186 |
| DL3JVN | DL-01257 |
| DO3GEO | DL-01258 |
| DN8ERZ | DL-01258 |
| DL1ARK | DL-01289 |
| DL1ÂSF | DL-01300 |
| DL1AUM | DL-01312 |
| DL0RUD | DL-01313 |
| DK7NU | DL-01323 |
| DL5ANE | DL-01375 |
| DL1ASF | DL-01432 |
| DF0MGN | DL-01436 |
| DL0RUD | DL-01443 |
| DH0GME | DL-01924 |
| DL8BU | DL-01940 |
| DL0WK | DL-01966 |
| DK0DFF | DL-02131 |
| DL2LQC | DL-02153 |
| DL9ZHG | DL-02154 |
| DO3TIA | DL-02168 |
| DL8MLD | DL-02173 |
| DO5KH | DL-02190 |
| DM2HEY | DL-02190 |
| DL5GSM | DL-02195 |
| DG1HVL | DL-02212 |
| DL9PA | DL-02242 |
| DO1DAN | DL-02243 |
| DL3HWO | DL-02286 |
| DM3WO | DL-02286 |
| DL3HWO | DL-02287 |
| DM3WO | DL-02287 |
| DL1AGS | DL-02298 |
| DA0CW | DL-02808 |
| DM3XB | DL-02973 |
| DC0TO | DL-03014 |
| DG3VSM | DL-03014 |
| DO8JH | DL-03014 |
| DK3ME | DL-03212 |
| DL1SWB | DL-03378 |
| DL2NPC | DL-03443 |
| DL6AP | DL-03639 |
| DL2NPC | DL-03670 |
| DL2NPC | DL-03706 |
| DL6RBO | DL-03803 |
| DG5MLA | DL-03836 |
| DG5MLA | DL-03837 |
| DC7MF | DL-03869 |
| DL7BC | DL-03966 |
| DG2HVL | DL-04103 |
| DG1RPU | DL-04159 |
| DD0D | DL-04276 |
| DL1STV | DL-04318 |
| DF0MGN | DL-04431 |
| DG0DRF | DL-04455 |
| DH0KAA | DL-04481 |
| DH1PAL | DL-04495 |
| DF8KY | DL-04516 |
| DK1FE | DL-04518 |
| DH0KAA | DL-04519 |
| DL8ECA | DL-04635 |
| DL2RUF | DL-04817 |
| DD3JN | DL-04843 |
| DP44WCA | DL-04915 |
| DA0WCA | DL-05002 |
| DG0BBE | DL-05024 |
| DL1AUM | DL-05069 |
| DG4YGO | DL-05138 |
| DK0MIT | DL-05153 |
| DB5ABS | DL-05204 |
| DO1DAN | DL-05263 |