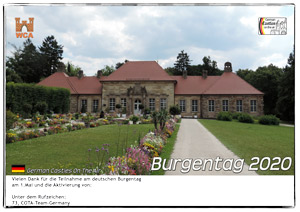 German Castle Day 2020 is over.
Conditions were not so good, however we already received a lot of incoming logs. So thanks to all activators and of course special thanks to those who worked the castle-stations. Below you find the actually received logs. However just directly after this event we want to remind for the world-castle-weekend 2020. This year extended to fully 11 days, which reminds on 11 years World Castle Award program and the special founded "11" which reminds castle activators on two towers.
Again we will bring out also a special-WCW-activator-award for those who are active from a german castle in this time-period and send us the log.
73,11,good health COTA-Team-Germany